Display NOW Digital Signage allows you to show your Google Slides in just a couple of clicks
Google Slides is a widely popular presentation software that is used by millions of people around the world. One of the lesser-known features of Google Slides is its ability to be used for digital signage, which is where Display NOW comes in. Display NOW is a platform that allows you to turn your Google Slides presentations into digital signage displays that can be shown on any screen or device. In this article, we will explore the features and benefits of using Google Slides for digital signage with Display NOW, but first we will talk about how you can display them on your screen.
Integrating Google Slides with Display NOW is easy and straightforward. Here's how:
Log in to your Display NOW account and select the "Media" tab from the top menu bar.
Select "Media App Store" and choose "Google Slides" from the list of available content types.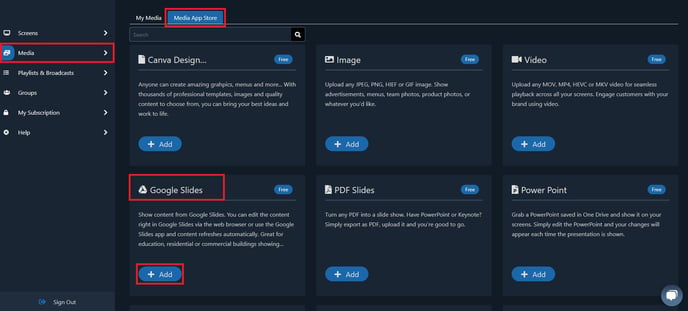 Sign into your Google account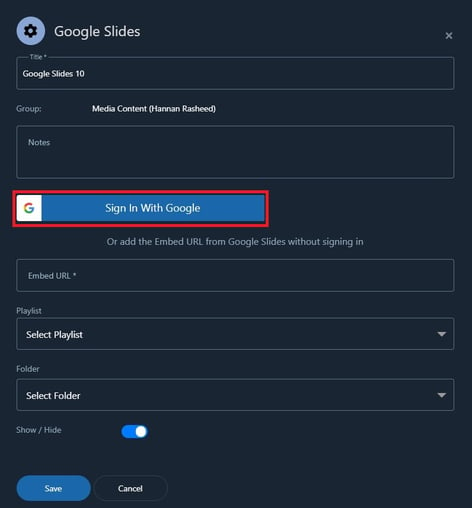 Now you can choose the presentation you want to display. Please make sure that whatever you choose to display is set to public on your drive as if it is private, it will not display.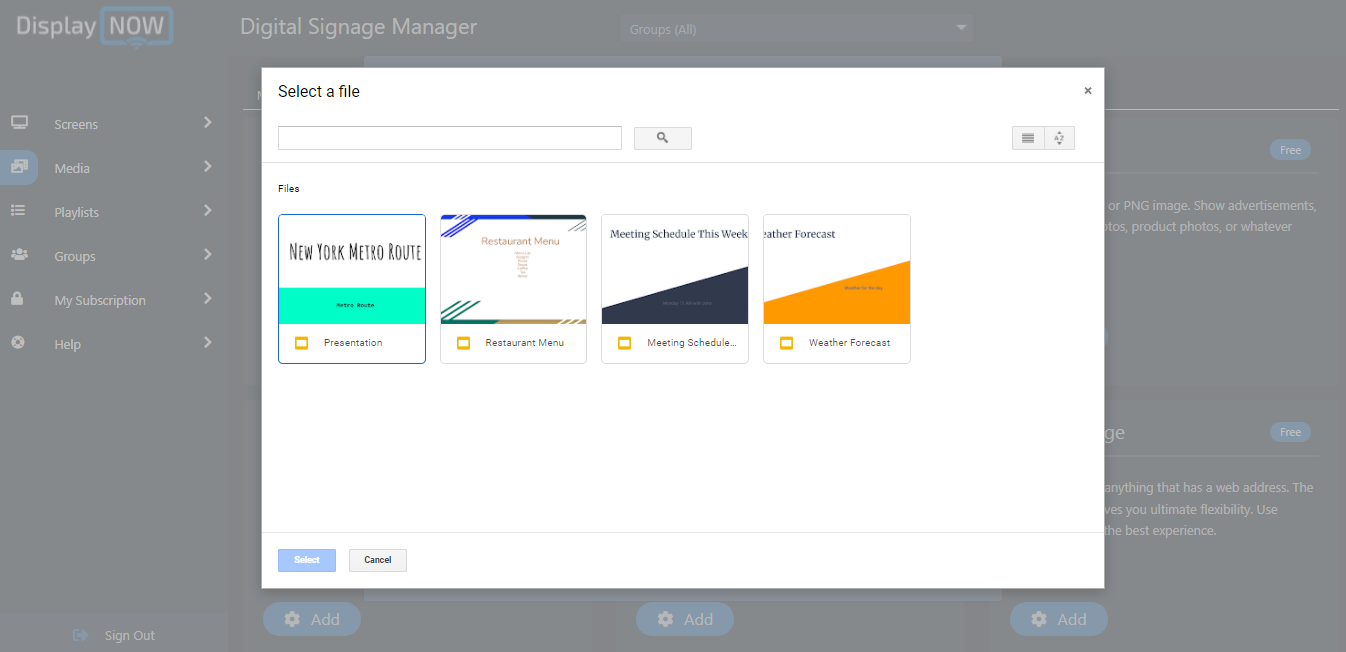 Click "Save" when finished to save your changes and add the slide presentation to your playlist of content for display on your screens using Display NOW's Digital Signage Player app or Amazon Fire TV devices with the Display NOW Digital Signage Player app installed on them.
Features:


Easy Setup
One of the most significant advantages of using Google Slides for digital signage with Display NOW is how easy it is to set up. All you need to do is create your presentation on Google Slides, connect it to Display NOW, and then configure your display settings. This process can take as little as five minutes from start to finish, making it an excellent option for those who want to get their digital signage up and running quickly.
Dynamic Content
Another great feature of using Google Slides for digital signage with Display NOW is the ability to create dynamic content. With Google Slides, you can add videos, images, animations, and other multimedia elements to your presentations. This means that you can create eye-catching displays that are sure to grab people's attention.
Real-Time Updates
Google Slides also allows for real-time updates, so if you make changes to your presentation while it's being displayed on a screen, those changes will be updated immediately without needing to refresh the page or restart the display.
Benefits:


Cost-Effective
Using Google Slides for digital signage with Display NOW can be incredibly cost-effective compared to other options on the market. Since many organizations already use Google Suite products like Gmail and Drive, there's no additional cost associated with using Google Slides as well.
Customizable

Another benefit of using Google Slides for digital signage with Display NOW is how customizable it can be. You have complete control over what goes into your presentation and how it's presented on-screen. This means that you can tailor your displays specifically towards your target audience and make adjustments as needed based on feedback.
User-Friendly

Finally, one of the biggest benefits of using Google Slides for digital signage with Display NOW is how user-friendly it is. Even if you don't have extensive experience creating presentations or working with digital displays, this platform makes it easy for anyone to get started quickly and efficiently.
In conclusion, using Google Slides for digital signage with Display NOW offers numerous benefits and features that make it an excellent choice for businesses looking to enhance their marketing efforts or improve internal communication through visual displays. Whether you're a small business owner or part of a large organization, this technology has something valuable to offer everyone who wants an affordable yet effective way to engage their audiences visually.